I am very pleased to announce that in August I was named a Board Certified Hypnotist of the National Guild of Hypnotists, the oldest and largest professional association of hypnotists. I had been a Certified Hypnotist since 2004, and this change in my title represents advancement in my field. NGH Board Certification is the highest and most prestigious certification in hypnotism, and recognizes professional standing as a highly qualified, expert, and ethical practitioner. Only about 500 of 14,000 NGH members (less than 4%) are Board Certified.
Part of the board certification process was an interview and examination at the NGH Convention. It reminded me of my first NGH Convention years ago when, at the opening session, a small 91-year-old gentleman sat next to me and struck up a conversation. When I told him that it was my first hypnosis convention, he encouraged my becoming more involved in hypnotism. I then recognized him as Ormond McGill, the world famous hypnotist and magician who performed under the stage name "Dr. Zomb" in the 1940s and 1950s. He was known as the "Dean of American Hypnotists" and wrote the Encyclopedia of Genuine Stage Hypnotism, the authoritative book on the subject.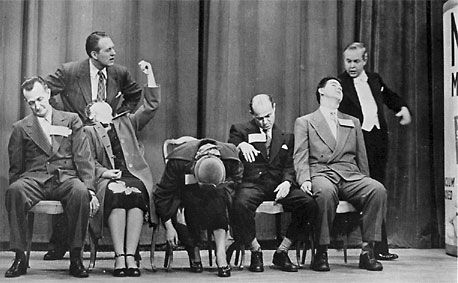 Ormond McGill, far right, performing stage hypnotism.
McGill wrote that with mastery of hypnotism "you will have at your command the greatest magic in the world, for beyond question there is no greater magic than the magic of the human mind." Originally, before I made hypnosis my profession, I had learned traditional hypnotism by studying McGill's books and recordings and performed stage demonstrations following his instructions For anyone seeking to learn genuine hypnotism, whether for the stage or for hypnotherapy, McGill's work is foundational. Meeting "Dr. Zomb" was exciting, and to hear his supportive words as I was entering the hypnosis profession was inspiring, to say the least.
At the end of my first convention I experienced a synchronicity that made a lasting impression. During the last session I attended, the presenter played a recording of
Rachmaninoff's second piano concerto
. and said that the composer overcame fits of depression and apathy about composing with the help of Dr. Nikolai Dahl, a prominent hypnotherapist in Russia. In fact, Rachmaninoff dedicated the concerto to Dr. Dahl. I took interest in the story, being a pianist and having my master's degree in music. On the hour-long drive to the home of friends, I thought about the use of hypnosis with musicians and artists. That evening my friends took me to visit a local couple, Dr. and Mrs. Maurice Kouguell. Dr. Kouguell was a hypnotherapist who had served on the faculties of Columbia University and the City College of New York, and he was also a certified instructor of the NGH. He took interest in my background in music because he was a viola player, and because the person who aroused his own curiosity in hypnosis as a child was also a hypnotherapist and musician. Dr. Kouguell then brought out an old photograph of an orchestra conducted by his father, and he pointed to a man in the viola section. It was Rachmaninoff's hypnotherapist!
Dr. Dahl was a close friend of Dr. Kouguell's parents and gave Dr. Kouguell his first toy violin.
We then had a conversation about using hypnosis with artists and musicians, which has influenced my work in several ways.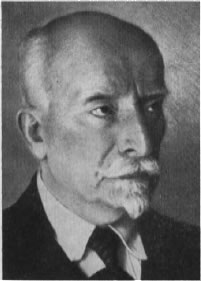 Dahl Hypnosis
Dr. Nikolai Dahl, 1917.
Reflecting on these experiences surrounding my first hypnosis convention years ago, and also on my recent experience with board certification, I can say that members of the NGH are some of the most accomplished, interesting, and encouraging professionals one could ever hope to meet. I feel honored to be recognized as an NGH Board Certified Hypnotist, and I am grateful to the Examining Committee and to my clients, family, and friends for their support.